TST SMS es un tejido no tejido trilaminar (Spunbond + Meltblown + Spunbond), que permite al tejido sin tejer Spunbond mejorar sus cualidades.
TST SMS

Three-layer  Polypropylene Nonwoven
Description
TST SMS is a nonwoven three-layer  (Spunbond + Meltblown + Spunbond) which allows Spunbond nonwoven to improve its qualities. While the two outer layers of Spunbond confer it an excellent resistance to tearing, the inner layer of Meltblown contributes with a very high filtration efficiency, being an excellent bacterial barrier. However, it allows the passage of air.
Features TST SMS
COMPOSITION: 100% Polypropylene (PP).
WEIGHT: 25 to 60 g / m²
COLOURS: White, blue hospital, green hospital, bicolor.
Properties TST SMS
Hypoallergenic, hemorrepellant, nontoxic.
High mechanical and chemical resistance.
Great softness.
Antistatic, eliminating any interference with the equipment in the operating room.
Good malleability.
No fuzzing.
Excellent barrier against the passage of fluids and bacteria filtration.
Air permeability.
High opacity and coverage.
High absorption capacity. 
Manufacturing process TST SMS:

SPUNBOND +MELTBLOWN + SPUNBOND 

TST SMSis a nonwoven obtained by a thermal adhesion of three sheets, the outer layers are manufactured by the spunbond technology, while the inner layer is manufactured using the meltblown technology.
It is called spunbond the manufacturing process known generically as Termobonded Spunlaid where polymers of polypropylene resin are melted in an extruder, creating fibers, which are cooled by an air stream and pass to a conveyor belt, forming a network which will be later connected by a process known as thermal bonding, resulting in a nonwoven fabric with excellent mechanical properties.
The Meltblown process involves the fusion of the polypropylene polymer by injecting large quantities of air at a high temperature and high velocity to attenuate the filaments and to create a dense agglomerated blanket of microfiber.
Treatments and finishings TST SMS:
CUT. Trim /Pad / Sheets / Pre-cuts
REWIND. Large to small rolls and vice versa
PRINTING. Digital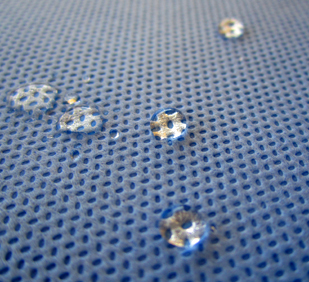 Applications TST SMS:
INDUSTRY
SAFETY CLOTHING: Protective clothing, masks, protection against asbestos … 
SANITARY
HOSPITALS: gowns, caps, masks ….
PERSONAL HYGIENE: Diapers …
SERVICES
TRANSPORT: Drink coasters …
FUNERALS: Protective equipment …
NIGHTCLUBS / SHELTERS: Sheets …
VETERINARY: Masks, stretchers covers, work clothes.