TST BOND es un tejido no tejido genéricamente conocido como tejido sin tejer, no tejido o spunbond, aunque recibe otras denominaciones como non woven, TNT, friselina o velo de polipropileno.
TST BOND

Polypropylene or Polyester Nonwoven Spunbond
Description
The TST BOND is a nonwoven fabric generically known as non-woven or Spunbond but it receives other names: nonwoven, TNT,felt or polypropylene veil.
Some of its excellent properties such as high tensile strength, low cost, water impermeability, antibacterial, air permeability or  easy printing, make the nonwoven Spunbond a widely used product  in several industries and applications, such as the hospitality sector, medicine, advertising, furniture , packaging , decoration …
Due to its low cost, TST BOND non-woven fabric is also employed as a disposable single-use product.
For some specific applications requiring a softer nonwoven we will use TST BOND SS. This nonwoven fabric is apparently similar to the original, with the particularity that the production process is performed by two layers, resulting in a better distribution and softness.
Features TST BOND
COMPOSITION: 100 % Polypropylene (PP ) or 100 % Polyester ( PET).
WEIGHTS : 15 to 150 g / m² .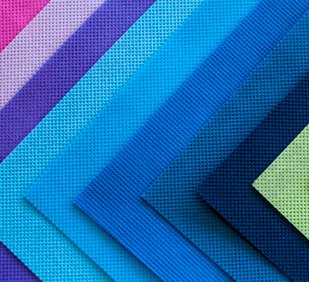 Properties TST BOND
Wide range of colors and widths.
High resistance to mechanical traction, chemical agents and tear.
Resistant to abrasion, acids, bases, organic solvents and bacteria.
No fraying or fuzzing.
Hypoallergenic, non-irritating for skin or eyes and suitable for food contact.
Permeable to air.
Hydrophobic (water repellent), with the possibility of making a hydrophilic treatment (allows water to pass through).
Non toxic or contaminating when it is recycled.
Photodegradable.
Does not allow dust to pass through.
It can be printed.
Low flammability (flame retardant) and heat resistant
Optimal to FIRA test requirements.
Manufacturing process TST BOND:
SPUNBOND is the manufacturing process generically known as Spunlaid Termobonded where polypropylene resin polymers are melt in an extruder, creating fibers, that after being cooled by a stream of cold air, pass to a conveyor belt, forming a network which will be subsequently connected by a process known as thermal bonding by creating a nonwoven fabric with excellent mechanical properties. 
The thermal bonding needed to complete the process of manufacturing of the Spunbond nonwoven is performed by a hot calender which thermo-welds the fibers under strict mechanical and temperature conditions, and which gives the nonwoven a characteristic engraving commonly known as embossing.
Treatments and finishings TST BOND:
CUT.Trim /Pad / Sheets / Pre-cuts
REWIND.Large to small rolls and vice versa. 
Adhesive applied to 1 and 2-sided. 
Water base finish. 
Hot-melt finish.
FLOCK. Suede finish, soft, elegant and velvety texture. 
Smooth Finish 1 and 2 sides. 
Peccary engraved finish 1 side.
You can apply more than 300 pictures or engrave your company's name.
LAMINATED. Colorless polyethylene sheet, 100% waterproof.
THERMO. Thermo-sheet / Thermo-paper / Thermo-weld.
PADDING. Ultrasound
PRINT. Stamping, screen printing, flexography, digital.
Other treatments: HYDROPHILIC / FIREPROOF / ABRASIVE / ANTISLIP/ANTISTATIC…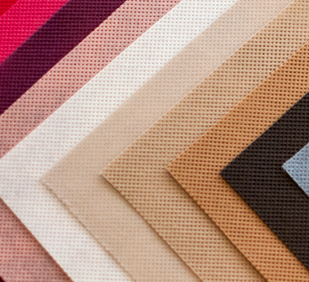 Applications TST BOND
AGRICULTURE
OUTDOOR CROPS : anti-weed in gardens.
COMMERCE
STORES / ADVERTISING: Advertising bags , garment covers, windows decoration …
HABERDASHERY AND HARDWARE: Almazuela ( patchwork ) , interlining , coverings , linens , packaging …
INDUSTRY
AUTOMOTIVE : Reinforcements , coatings, filters , covers, garbage bags…
FURNITURE AND MATTRESS : Coatings , dustcovers, wrapped springs,separation layers, pillow cases , table clothes, padded supports…
FOOTWEAR AND LEATHER : Inner lining shoes , bags, lining for wallets, shoe covers , reinforcements, wrapping covers…
SAFETY CLOTHING : Protective clothing , masks, protection against asbestos…
LEISURE
CELEBRATIONS AND EVENTS : Coverings, costumes …
SCHOOLS AND NURSERIES : Crafts, murals , decorations , tailoring …
SANITARY
HOSPITALS : gowns, caps , masks …
GERIATRIC CENTERS AND  SCHOOLS : Bibs, pinnies/aprons, sheets, bed protectors, tablecloths , aprons , hats, bags …
PERSONAL HYGIENE: Diapers…
SERVICES
HOTEL INDUSTRY/FOOD SERVICES : Tablecloths, table runners, bibs, hats, aprons , shoes , sheets, filters …
TRANSPORT: Headrest supports, pillow cases, coasters …
FUNERAL : Bag for rests, shrouds, bags, protective equipment , coffin covers, urns …
BEAUTY : Stretchers covers, blankets, capes, gowns, clothes, floor pads.
NIGHTCLUBS / SHELTERS : sheets …
VETERINARY : Masks,stretchers covers, work clothes, underpads …