Edification:
TST BV has excellent mechanical and water permeability properties, that allow it to meet the requirements of vapor barrier and moisture control of the Technical Building Code. 
As established in the Basic Document Energy Savings of the CTE, those buildings which protect their enclosure with a vapor barrier, will be exempt from the condensation calculation.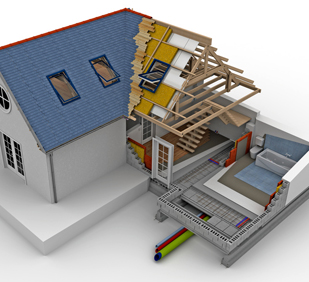 Vapor barrier
The vapor barrier made with TST VR  is a building element used to avoid the risk of surface and interstitial condensations in cold areas of walls and roofs. 
Vapor barriers are not completely impermeable to water vapor component, they have a low permeability. It is consiered as vapor barrier any sheet that provides a resistance to water vapor higher than 0.1 MN s / g.
TST BV as a vapor barrier must be placed in the insulation inside face in cold climates while in warm climates it will be placed at the outside part.
TST BV vapor barrier placement

Cover in a warm climate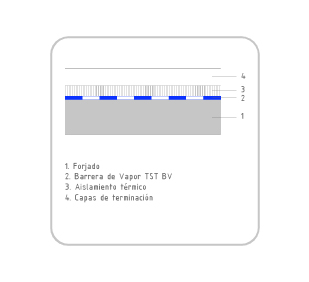 Façade in a warm climate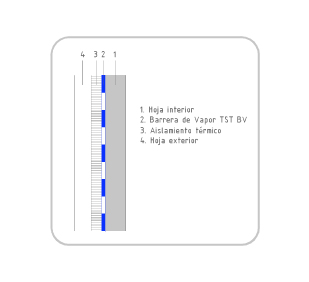 Waterproofing subfloors
TST BV
In floor slabs and foundations we place the TST BV to avoid that due to the capillary phenomenon, water rise from the ground and cause damp.
Placement of Antidampness TST BV Barrier in subfloors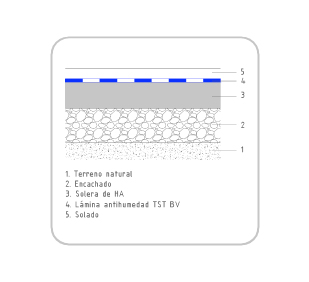 Renovations.
TST PROTEC
During a renovation or repair, the floor and sometimes other surfaces or elements of a building, are vulnerable to many construction works involved in the process. The use of TST PROTEC in floors, walls, ceilings, doors, frames or furniture guarantees its preservation in a good condition before scratches, liquid spills, shocks, dust and dirt. 
The TST PROTEC is self-adhesive, waterproof and completely dustproof, so it can be placed without removing pictures from the walls or books from the shelves.